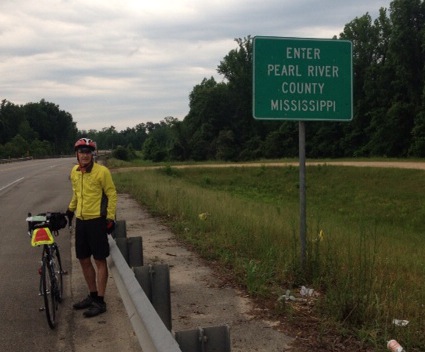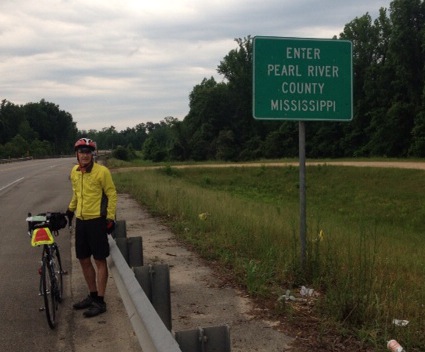 Crossed in to Mississippi minutes before a thunderstorm moved in.
It was around 7:30 when I got on the road with one of the other riders. The weather forecast was calling for severe weather in the afternoon after 2pm so we wanted to get to Poplarville before 1pm. It was overcast and warm as we cycled the 15 miles or so on SR 1072 passing through Springhill and Plainview. After turning on to SR 60 the traffic picked up and we began to hear thunder in the distance. We stopped at a MacDonalds in Bogalusa and talked about stopping for something to eat. After looking at the sky conditions and looking at the weather radar on a phone, we decided to continue on and cover the 22 miles to Poplarville as fast as possible. The radar showed severe weather heading our way quickly.
We covered about 11 miles at a time trial pace before it began to rain hard so we slowed down for the last 11 miles to ensure we arrived safely. A few miles east of Bugalusa we crossed the Pearl River and entered Mississippi, stopping briefly for a quick picture. We arrived in Poplarville at 11:30 and found a restaurant to warm up in while we had lunch. We ordered coffee and were told that they didn't serve coffee. They offered to heat up some iced tea in a microwave for us so we took them up on that.
We waited for the rain to stop before heading to the Haas Cienda RV Park and arriving at 1:30. We cycled 52 miles.