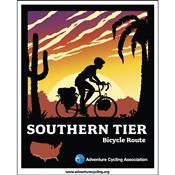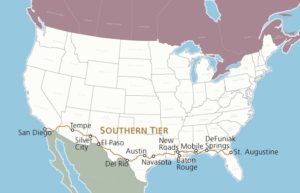 In March I'll be setting out on a bicycling tour across the United States, following the 5,000 km (3,160 mile) Southern Tier route.  The tour will start in San Diego, California and I'll pass through Arizona, New Mexico, Texas, Louisiana  and Alabama before finishing up in St. Augustine, Florida.  I'll be riding the route as part of an Adventure Cycling Association, van supported tour.  That means there will be a dozen or so cyclists and a van to carry our camping gear from location to location.
I'm looking forward to riding over a wide variety of terrain and seeing a variety of vegetation along the way.  It looks like there will be a long climb leaving San Diego before descending and entering the desert country in California and Arizona.  In New Mexico there are two mountain passes to climb with the highest point being at 8,228 feet.  In Texas the route follows the Rio Grande along the border with Mexico into El Paso and then through the Davis Mountains.  After the Davis Mountains I'll pass through some of the towns I rode through last November (Fort Davis, Alpine, Marathon) on the Big Bend Tour.  The route runs north of New Orleans and east through Alabama before ending in St. Augustine, Florida.  There will be 47 days of riding and 11 rest days.  The average daily riding will be 108 km (67.2 miles).
It's time to start getting my bike and gear ready for the trip.  With cold temperatures and lots of snow, I won't be doing much cycling.  I'll continue to cross country ski most days, do some running and spend a little time on my indoor trainer to get my cycling legs back.