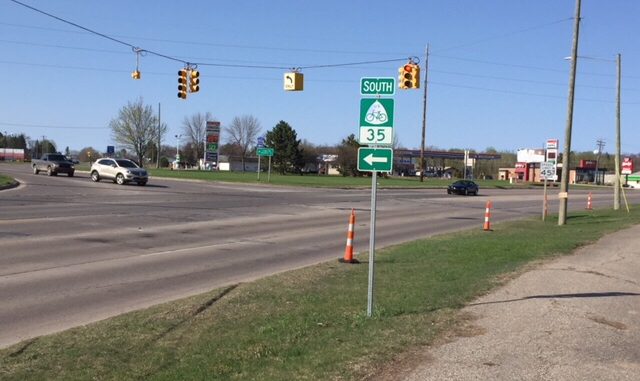 On May 17 I left home just after 08:30 and cycled to the International Bridge to begin my ride along Bike Route 35 to Petoskey. It was a chilly 8 degrees Celsius when I started out and breezy. It stayed pretty much the same weather conditions all day and only warmed up to about 11C when I arrived in Mackinaw City.
US Bike Route 35 is signed fairly well with direction signs at key locations. Before leaving home, I downloaded the route from Ride With GPS and loaded it on my Garmin Etrex 20. I printed out turn by turn directions but did not need them. The GPS route got me to my destinations.
Crossing the International Bridge was okay although there is not much room for cyclists with virtually no shoulder. Luckily traffic was light. After clearing through customs quickly, I paid $1.75 bridge toll and was on my way.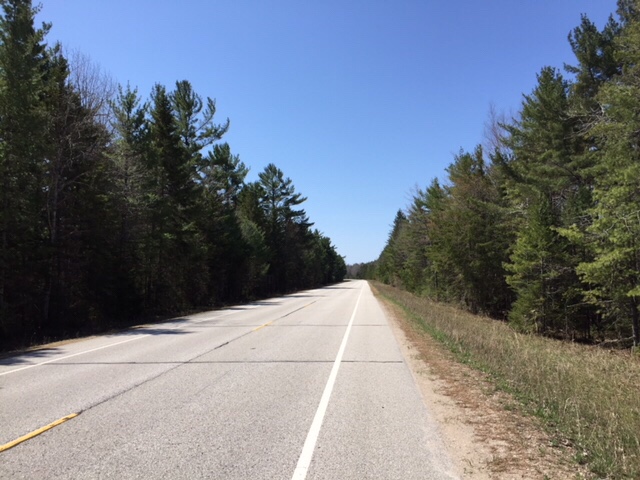 The ride from the Soo to St. Ignace was peaceful and there was very little traffic.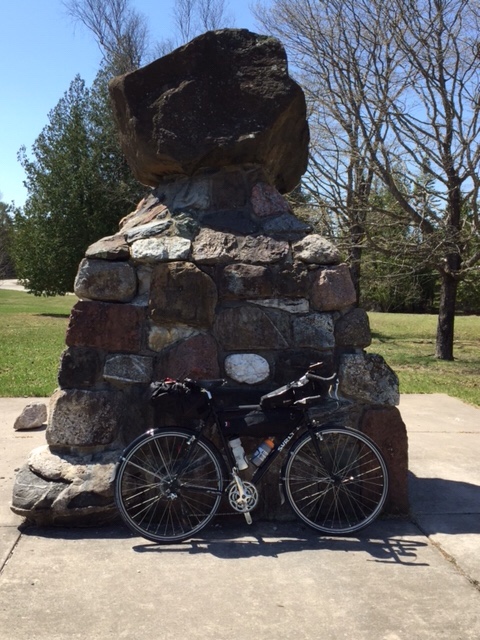 Above – Just north of St. Ignace
When I arrived in St. Ignace I rode to the Mackinac Bridge and took a shuttle across the 5 mile bridge to Mackinaw City. To get to the bridge I followed the main drag through town until it turned in to US 2 and crossed over I 75. Bikes are not allowed on I 75 so I took the first left past the ramp to I 75 and headed south on Boulevard Drive. I turned left (wrong way on a one way road Densmore Avenue) and rode for a few hundred metres to a State Police Post. From there I carried my bike up a few flights of stairs and crossed over I 75 on a walkway and headed down the stairs to the Bridge Administration Building. After paying $5 a driver took me across the bridge to Mackinaw City where I checked in to the Super 8 Beachfront hotel. The room was just $10 more than camping at the KOA and included a free breakfast. I travelled 69 miles including the 5 miles that I was driven across the Mackinac Bridge.
Below – my bike loaded on the Bridge Authority's truck ready for transport.