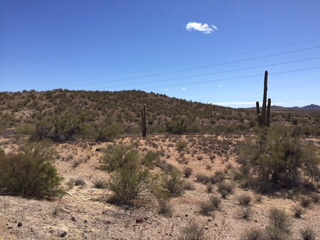 It looks like I need a new sleeping pad. I found out last night that there is a very small leak somewhere. I woke up to blow it up four times. Other than that inconvenience, I had a pretty good sleep.
I got on the road around 7am and after a few miles stopped in Salome for breakfast. The 50 or so mile ride from Salome to Wickenburg went by reasonably quickly as I was aided by a tailwind much of the way. I was traveling at about 30km/hr at times which is fast for me with a loaded touring bike. I arrived in Wickenburg around noon. The ride to Surprise was during the hottest time of the day and traffic increased significantly. Over the last several years I have entered the Phoenix area by both the ACA route and the US Bike Route System 90 route. Bike Route 90 is much more cyclist friendly.
Today's ride was 90 miles. It was a hot one with temperatures in the high 20's Celsius.