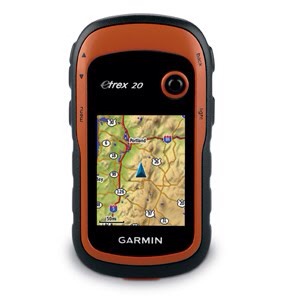 I've used the eTtex 20 on two bicycle tours. The first time was a two month tour in 2015 across the U.S. on the southern tier route. The second time was a three week tour in southern California and Arizona in the spring of 2016. I've found the unit to be reliable, durable and relatively user friendly.
Basic Overview 
This is not a technical review of the eTrex 20. There are lots of other reviews on the internet that do a better job than I could ever do.  

This review simply focuses on the general features, how I use the unit and some of the basic pros and cons. 
Cost – about $220 CAD
Physical dimensions – 5.4 x 10.3 x 3.3 cm
Display dimensions – 3.5 x 4.4 cm
Weight – 141.7 g
Battery type – 2 AA.  I use rechargeable NiMH batteries.  I carry a second set of rechargeable batteries and a battery charger.
Battery life – 25 hours according to Garmin
Internal memory – 1.7 GB
Routes – 200
Tracks – 200
Waypoints, favorites, locations –  2000
Expandible memory – Micro SD slot. I added the Garmin City Navigator North America maps on a MicroSD. Additional cost of $85 CAD
Useful accessory – Handlebar mount. Less than $10 CAD
 Durability – The unit is water resistant. I've cycled several times in pouring rain and not had any problems.  One time when I had not secured it properly on the bike mount, it slid off my handlebars while I was riding. It bounced on the highway surface several times before I stopped and returned to pick it up.  There was no damage.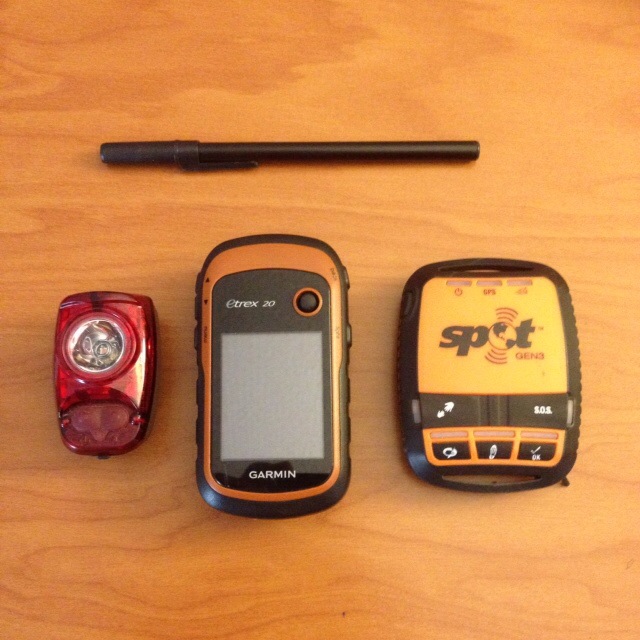 There are lots of screen options available but I generally use the "Map" screen and "Trip Computer" screen when cycling.
Here is a short list of some of the pros and cons I've come up with after using the eTrex 20 for bike touring.
Pros
If I carry 2 sets of rechargeable batteries I can get close to 50 hours of use before recharging the batteries.  This is useful when camping in locations without access to power.
Price – The eTrex 20 is relatively inexpensive compared to other units.
A GPS device provides more detail than paper maps.
When I return home I can upload my "Tracks" to Garmin Connect or Google Earth for future reference.
I'm able to create "Routes" using Garmin Connect on my home computer and upload the routes to the GPS unit.
As previously mentioned, the eTrex 20 is reliable.  It aquires a signal quickly.
Cons
The cursor is moved around the screen with a "Thumb Stick" button. I've found that the "Thumb Stick" doesn't always work well. If I  try to switch screens and move from the "map screen" to the "trip computer" screen while cycling the cursor does not always select the correct icon.  It is sometimes necessary to stop cycling to change the screen from map image to trip computer.
Summary
I think the eTrex 20 fulfils the basic needs of the bicycle tourist. It's works as a good navigational aid and keeps a record of your travels.
As mentioned at the beginning of this post, I generally use the eTrex 20 along with a paper map for navigation.
In a future blog post I will write about the use of Google Maps and the screen capture function on my smart phone to record bicycle travel directions through tricky areas.