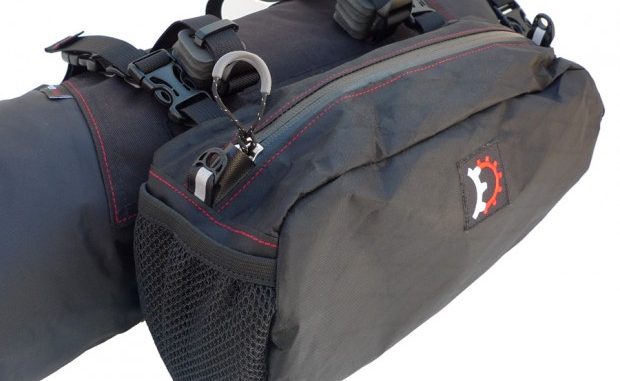 After using a traditional handlebar bag on my touring bike for the last number of years, I decided to try something different on a recent cycling trip in west Texas.  Before the trip I purchased a Sweetroll bar bag from Revelate Designs.  The Sweetroll is a dual ended dry bag with a quick release handlebar mounting system.  It is 100% waterproof as I found out after riding a few days in the rain.   I also picked up a Pocket made by Revelate Designs.  The Pocket provides add-on storage and attaches to the front of the bar bag with 4 buckles.  The Pocket is not waterproof so maps, smart phones and other items may need to be stowed in a plastic bag inside the Pocket or somewhere else.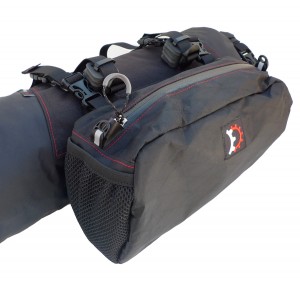 The Sweetroll comes in three sizes.
Small – 5.75″ diameter x 23″
Medium – 7″ diameter x 22″
Large – 8″ diameter x 22″
The Pocket comes in two sizes.
Small –  6″ x 12″ x 2″
Large – 7″ x 12″ x 3.5″
I ordered a medium Sweetroll and large Pocket and the combined empty weight came out to about 15 ounces.  The large sized Pocket features elastic mesh side pockets which is handy for additional storage.  The Pocket is attached to the Sweetroll with plastic buckles and can be easily removed if you are leaving your bicycle unattended for a short while and want to bring your valuables with you.
The Sweetroll was designed for use with mountain bike handlebars but can be used on some bikes with drop handlebars.  There is a post on the Revelate Designs blog that gives examples of various set-ups on bikes with drop handlebars.  I've got bar end shifters on my touring bike so I didn't have to deal with cables in the way in front of the handlebars or potentially hitting the sides of the bar bag when changing gears with STI levers.
As it says in the Revelate Designs blog entry,
" it's a system originally designed for flat bars, but works well with various drop bars, you just need to be mindfull of the packed width. The drops interefering with on the bike loading may or may not be much of a concern depening on personal preference on loading. If sleeping gear is stored then it's a non-issue. If used for clothing layer changes during the day while on the bike then the side access is not as good as with flat bars."
On this trip I had plenty of room to store a rain jacket, rain pants, and other items in the bar bag and a lunch, snacks, camera, wallet and map in the Pocket.  The elastic mesh side pockets on the Pocket were large enough for a Spot Messenger and some small snacks.
I was happy with the Revelate Designs products and plan to use the Sweetroll and Pocket on a van supported tour across the US on the Southern Tier route this spring.  I plan to rig up a simple fastening system so I can use the Pocket alone without the Sweetroll on days when extra items like rain jackets and other clothing are not required.