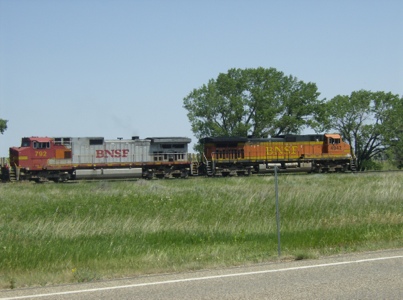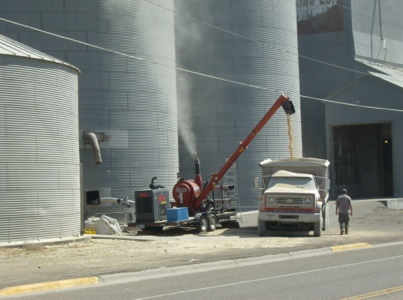 Grain elevator at Chinook
I left Havre just before 10am on Friday. My legs were a little tired from yesterday so I thought I'd give them a little more rest before heading out. Today was a great day for cycling. It was 30c, sunny and the winds were almost dead calm. I stopped briefly in Chinook for an early lunch just after 11am and then continued east on Highway 2.
Highway 2 runs somewhat parallel to the railroad line so each day I see several trains go by. This one blew its train whistle as he went by and saw me taking a picture. As the afternoon went on the heat and scorching sun increased. I didn't pass too many stores along the way but whenever I saw one I went in and bought a cold drink. I also was carrying 4 water bottles with me. Near Harlem, Montana I stopped for a few minutes to talk with a couple heading west on bicycles. About 5km east of Fort Belknap I turned off the main Highway on to a secondary highway as recommended on the Adventure Cycling Association map. It was an enjoyable ride and I only saw two vehicles in the 20km side trip. Before getting back on Highway 2 I stopped for the 3rd time to lather up with more sunscreen. Today I wore a hat under my bike helmet. I noticed last night that I had several burnt spots on the top of my shiny head where the sun was getting through the air vents in my helmet (ha ha). In Dodson I stopped for a cold drink at a small store and sat inside for a while and talked with the old fellow behind the counter. Around 5pm I arrived in Malta and stopped for the night. After a cold shower to lower my body temperature I headed over to a restaurant for dinner. The restaurant interior looked like something from the 1960's and so did the menu. I ordered a hot beef sandwich for $7.65. It was pretty good. I'm making good easterly progress. There's a highway that goes north to Swift Current Saskatchewan, 142 miles north of here. Total cycling for the day was 154km.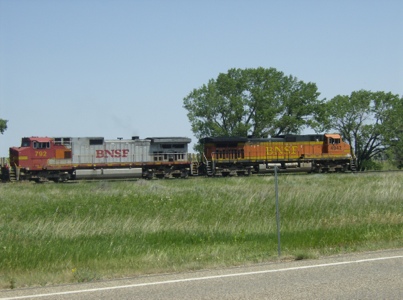 I should also note that on July 3, 1901, Kid Curry and his partners, Butch Cassidy, the Sundance Kid, and Deaf Charlie, held up the Great Northern Railway's No. 3 passenger train and blew up the express car safe near Malta. Montana's most famous train robbery netted the crooks a bag of gold coins and $40,000 in unsigned and worthless bank notes. Soon after Curry and his gang left Montana.